The Interior Castle or the Mansions – Teresa of Avila – The Soul's Union with God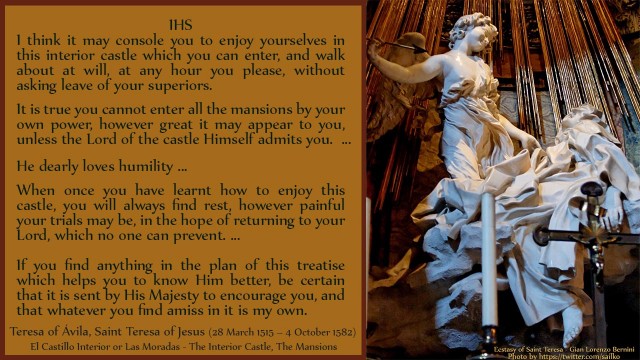 A mystic believes that people have the ability to interact with deity, the extent varies. A Christian Mystic believes that  our purpose is to have this union with God the Father, God the Son, and God the Holy Spirit. The Holy Spirit  discloses to us  that which belongs to the Son, and the Son says, "All that the Father has is mine."  It is God in us, a mystery  to those who have yet to come to Jesus as savior. I pray that He stir in you a desire for more of Him and that He gather your desire and take you into the mansions of the soul where there is rapture in union with Him. Here we begin to perceive that we are living deeper and deeper into the Kingdom of God where these earthen vessels are imprinted with the command to love the Lord your God and to love others, so that the entirety of  our being yearns to love.
26 that is, the mystery which has been hidden from the past ages and generations, but has now been manifested to His saints, 27 to whom God willed to make known what is the riches of the glory of this mystery among the Gentiles, which is Christ in you, the hope of glory. 28 We proclaim Him, admonishing every man and teaching every man with all wisdom, so that we may present every man complete in Christ.…
Jesus Christ, living in the hearts and souls of  those called out, τὴν ἐκκλησίαν, to be his bride is a mystical concept. And not just any mystical concept, it is the heart of the Good News. Jesus wants to come and live in your heart, not simply as an idea, but as true resident, who is perceived, talked to, and who will direct the soul as the soul yields to His love.
Writings about the active life and meditative prayer (the Christian is active, while God often takes a a passive role, permitting our actions and providing what is needed as we  walk in His steps) and contemplative prayer (We are carried by God. there is little to no action on our part. God is the active player and the soul is in passive stance) often reference Mary and Martha as seen in John 11. Martha represents the active Christian life, and it is a beautiful life. Here the soul seeks to serve Christ. The soul is active. Here we work. Here we seek to pray for needs other than our own. The list goes on and on, the end of things we seek to do for God is without end. It is all to easy to be busy doing things for God, that we forget to drink of the "well of water springing up to eternal life."  To be sure, those things need to be accomplished, they are good things. So in John 11 we find Martha providing refreshment to a weary troupe. Then, on the passive side, we see that which will not be taken away, we see Mary content to sit in the glory of the Bridegroom and wait upon His love. When our desire for God burns bright, when our soul desires to know and love God, Jesus takes our hands, every time, as far as I can remember. The more our desire for Him grows, the more intimate the union He carries us to, for He is a pearl of great price. Mary's part, Jesus promises, lasts forever,  it will not be taken away. The desire itself is from God, it is God at work transforming the soul.
Every Christian is called to the life of Martha. To some, who pursue the active Christian, Martha's part, the blessings of Mary find expression. Both live's are blessed. When we desire God, God's Spirit transforms us, it takes us captive to places we can not approach or enter in our own strength. The life of contemplation flutters on the wind of God's Breadth as a butterfly. This occurs often when the soul is yielded to God, when the self waits upon God. This is when the Bridegroom gathers and carries the soul aloft. St. Teresa identifies these excursions with what she refers to as the prayer of union. The soul is kept but a brief time in the prayer of union. No matter the length of time God keep the soul in this state the mark of these encounters is imprinted upon the heart of the soul and will not depart. This imprinting is like a map or a subroutine, it carries us toward Love of God and the love of other.
Though I question some aspects of her writing, I find an affinity and companionship with Teresa of Jesus. The expressions she uses to describe Christ's gracious acts in her life harmonizes with my experience. As there is truth in her description of this union with Christ, I am confident it will  be as valuable to others who desire to commune with God, as it is to me anytime I pick it up.
Like the Cloud of Unknowing and other books which seek to aid pilgrims in their understanding and exploration of Christ in us, the hope of glory, the full text is recommended. Snippets can be confusing and may seem inconsistent. With this said, I have created an outline for myself. If it benefits you, God be Praised. If something is confusing please read the full text.
THE INTERIOR CASTLE or THE MANSIONS
By St. Teresa of Avila – St. Teresa of Jesus Translated from the Autograph of St. Teresa of Jesus by The Benedictines of Stanbrook – Revised, with Notes and an Introduction, by the Very Rev. Fr. Benedict Zimmerman, O.C.D. [1921]
Dom Michael Barrett,
Description: Interior Castle is the work of 16th century Carmelite nun and Christian mystic St.Teresa of Avila. She wrote Interior Castle  as a spiritual guide to union with God. Her inspiration for the work came from a vision she received from God. In it, there was a crystal globe with seven mansions, with God in the innermost mansion. St. Teresa interpreted this vision as an allegory for the soul's relationship with God; each mansion represents one place on a path towards the "spiritual marriage"– i.e. union–with God in the seventh mansion. One begins on this path through prayer and meditation. She also describes the resistance that the Devil places in various rooms, to keep believers from union with God. Throughout, she provides encouragements and advice for spiritual development. Beyond its spiritual merit, Interior Castle also contains much literary merit as a piece of Spanish renaissance literature. A spiritually challenging book, Interior Castle stands on par with other great works of this time, such as Dark Night of the Soul. Tim Perrine CCEL Staff  Writer
The Benedictines of Stanbrook desire to express their gratitude to the very Rev. Benedict Zimmerman for having kindly revised the translation of the 'Interior Castle' and also for the Introduction, Notes, and Index which he has added to the book.
INTRODUCTION
SAINT TERESA began to write the Interior Castle on June 2, 1577, Trinity Sunday, and completed it on the eve of St. Andrew, November 29, of the same year. But there was a long interruption of five months,1 so that the actual time spent in the composition of this work was reduced to about four weeks—a fortnight for the first, and another fortnight for the second half of the book. The rapidity with which it was written is easily explained by the fact that the Saint had conceived its plan some time previously. On January 17, 1577, she had written to her brother, Don Lorenzo de Cepeda, at Avila: 'I have asked the bishop—Don Alvaro Mendoza—for my book (the Life) because I shall perhaps complete it by adding those new favours our Lord has lately granted me. With these one may even compose a new work of considerable size, provided God grants me the grace of explaining myself; otherwise the loss will be of small account.'2 She never asked for permission to write anything, but waited until she received a command from her superiors, which, in this case, came from Father Jerome Gracian, superior of the Discalced J. Carmelites of the Provinces of Andalusia
THIS TREATISE, STYLED THE INTERIOR CASTLE, WAS WRITTEN BY TERESA OF JESUS, NUN OF OUR LADY OF CARMEL, FOR HER SISTERS AND DAUGHTERS, THE DISCALCED CARMELITE NUNS.
RARELY has obedience laid upon me so difficult a task as this of writing about prayer; for one reason, because I do not feel that God has given me either the power or the desire for it, besides which, during the last three months I have suffered from noises and a great weakness in my head that have made it painful for me to write even on necessary business. I However, as I know the power obedience has of making things easy which seem impossible,
my will submits with a good grace, although nature seems greatly distressed, for God has not given me such strength as to bear, without repugnance, the constant struggle against illness while performing many different duties. May He, Who has helped me in other more difficult matters, aid me with His grace in this, for I trust in His mercy. I think I have but little to say that has not already been put forth in my other works written under obedience; in fact, I fear this will be but repetition of them. I am like a parrot which has learnt to talk; only knowing what it has been taught or has heard, it repeats the same thing over and over again. If God wishes me to write anything new, He will teach it me, or bring back to my memory what I have said elsewhere. I should be content even with this, for as I am very forgetful, I should be glad to be able to recall some of the matters about which people say I have spoken well, lest they should be altogether lost. If our Lord will not even grant me this, still, if I weary my brains and increase my headache by striving to obey, I shall gain in merit, though my words should be useless to any one. So I begin this work on the Feast of the Blessed Trinity in the year 1577, in the Convent of St. Joseph of Carmel at Toledo, where I am living, and I submit all my writings to the judgment of those learned men by whose commands I undertake them. That it will be the fault of ignorance, not malice, if I say anything contrary to the doctrine of the Holy Roman Catholic Church, may be held as certain. By God's goodness I am, and always shall be, faithful to the Church, as I have been in the past. May He be for ever blessed and glorified. Amen.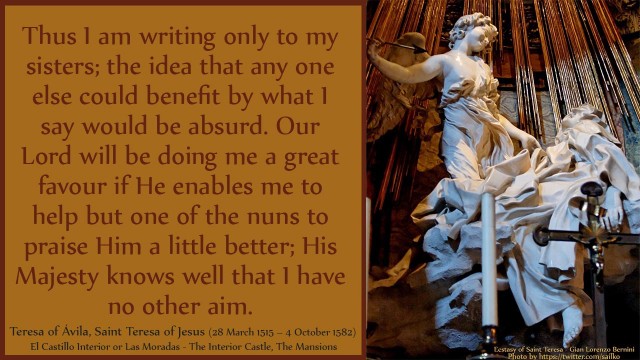 He who bids me write this, tells me that the nuns of these convents of our Lady of Carmel need some one to solve their difficulties about prayer: he thinks that women understand one another's language best and that my sisters' affection for me would make them pay special attention to my words, therefore it is important for me to explain the subject clearly to them. Thus I am writing only to my sisters; the idea that any one else could benefit by what I say would be absurd. Our Lord will be doing me a great favour if He enables me to help but one of the nuns to praise Him a little better; His Majesty knows well that I have no other aim. If anything is to the point, they will understand that it does not originate from me and there is no reason to attribute it to me, as with my scant understanding and skill I could write nothing of the sort, unless God, in His mercy, enabled me to do so.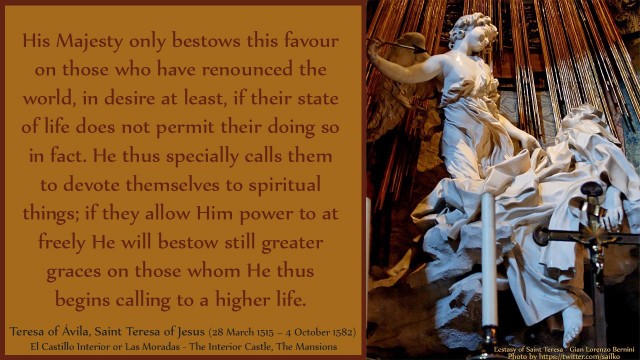 IHS
ALTHOUGH, as I told you, I felt reluctant to begin this work, yet now it is finished I am very glad to have written it, and I think my trouble has been well spent, though I confess it has cost me but little. Considering your strict enclosure, the little recreation you have, my sisters, and how many conveniences are wanting in some of your convents, I think it may console you to enjoy yourselves in this interior castle which you can enter, and walk about  at will, at any hour you please, without asking leave of your superiors. It is true you cannot enter all the mansions by your own power, however great it may appear to you, unless the Lord of the castle Himself admits you. Therefore I advise you to use no violence if you meet with any obstacle, for that would displease Him so much that He would never give you admission to them. He dearly loves humility:2 if you think yourselves unworthy to enter the third mansion, He will grant you all the sooner the favour of entering the fifth. Then, if you serve Him well there and often repair to it, He will draw you into the mansion where He dwells Himself, whence you need never depart unless called away by the Prioress, whose commands this sovereign Master wishes you to obey as if they were His own. If by her orders, you are often absent from His presence chamber, whenever you return He will hold the door open for you. When once you have learnt how to enjoy this castle, you will always find rest, however painful your trials may be, in the hope of returning to your Lord, which no one can prevent. Although I have only mentioned seven mansions, yet each one contains many more rooms, above, below, and around it, with fair gardens, fountains, and labyrinths, besides other things so delightful that you will wish to consume yourself in praising in return the great God Who has created the soul to His own image and likeness. If you find anything in the plan of this treatise which helps you to know Him better, be certain that it is sent by His Majesty to encourage you, and that whatever you find amiss in it is my own. In return for my strong desire to aid you in serving Him, my God and my Lord, I implore you, whenever you read this, to praise His Majesty fervently in my name and to beg Him to prosper His Church, to give light to the Lutherans, to pardon my sins and to free me from purgatory, where perhaps I shall be, by the mercy of God, when you see this book (if it is given to you after having been examined by theologians). If these writings contain any error, it is through my ignorance; I submit in all things to the teachings of the holy Catholic Roman Church, of which I am now a member, as I protest and promise I will be both in life and death. May our Lord God be for ever praised and blessed! Amen, Amen.
I finished writing this book in the convent of St. Joseph of Avila, 1577, on the Vigil of St. Andrew, for the glory of God, Who liveth and reigneth for ever and ever! Amen.
HERE ENDS THE INTERIOR CASTLE OR THE MANSIONS (TOC)
TRANSLATED AND PRINTED BY THE BENEDICTINES OF STANBROOK A.D. MCMXXI,  The Interior Castle or The Mansions,  Teresa of Avila, St. Zimmerman, Benedict (Editor) Publisher: Grand Rapids, MI: Christian Classics Ethereal Library