1) Importance of prayer – Prayer: What's It All About?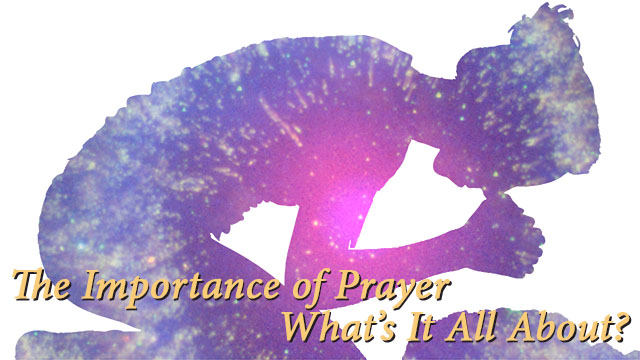 Personal prayer exists right at the center of any spirituality. In it we search, both individually and in groups, for deeper more personal intercourse with God – moving into an ever greater intensity, union, and communion that will radically alter the way we live our lives….Prayer above all else is conversation with God. It is the primary speech of the true self to the true God. It reaches far below words into the affects and images and instincts living in us unconsciously – into what depth psychologists call primary-process thinking. Prayer makes use of all we know verbally and emotionally – our conscious secondary-process thinking – forming words and wishes sent in urgent pleas or in quiet meditation to our Lord. We speak in prayer from our most hidden heart to the hiddenness of God, in whose astonishing image we were fashioned and find our true faces. Cheslyn Jones, Geoffrey Wainwright, and Edward Yarnold, eds., The Study of Spirituality, (New York: Oxford University Press, 1986), 24.
Importance of prayer, a christian position.
I. Prayer as speaking to God – Biblical term

A. To say, to speak, to seek, to entreat judge, to pray, to intercede, to call out, to ask, to search out, to entitle, to evoke, to lay forth, to supplicate, and to worship. (see the appendix for the Hebrew and Greek)
B. For the purposes of this study, at least at the beginning, we will identify prayer as initiated from us. While it is communion or speaking with God, we will not be looking at conversations with God that God directly initiates, ie. Moses and the burning bush.
C. As the citation above indicates, prayer is speech with God. Yet this speech goes beyond the consciousness. Therefore the benefit of our prayers go beyond what we can think or ask.

"What should I do then, I will pray with the spirit, but I will pray with the mind also; I will sing praise with the spirit, but I will sing praise with the mind also." 1 Cor 14:15

II. Why should we pray.

A. We are commanded to pray.

1. "But I say to you, Love your enemies and pray for those who persecute you." Matt. 5:44
2. "And Jesus told them a parable about their need to pray always and not to loose heart." Luke 18:1
3. "Pray in the Spirit at all times in every prayer and supplication." Eph. 6:18

a. "I desire, then, that in every place the men should pray, lifting up holy hands without anger or argument." 1 Tim. 2:8
b. "Pray without ceasing," 1 Thes. 5:17
c. "Now we must also take up the Lord's Prayer. In the first place necessity itself requires that we not only admonish you to pray, but also teach you to pray. You should pray and you should know that you are bound to pray by divine command. For the second commandment teaches that you shall not swear, curse, or conjure, but call upon the name of God in every time of need, pray, praise, and exalt him; hence that it is commanded that we pray." John Dillenberger, ed., Martin Luther, (New York: Anchor Books, 1961), 215.

4. Prayer is pleasing to God.

a. Our praises are as a fragrant aroma rising to God.
b. Prayer has long been considered a sacrifice, our whole being, emptied before God the Father.
c. "Such people are evidently ignorant of the fact that these visible sacrifices are mere symbols of the invisible sacrifice just as truly as audible words are mere signs of realities. For example, when we direct our prayers and praise to Him, we use words which have meaning and, at the same time, we offer in our hearts the things that our words signify." St. Augustine, The City of God, trans. Garald G. Walsh, S.J.,Demetrius B. Zema, S.J., Grace Mohanan, O.S.U., and Daniel J. Honan, (New York: Image Books, 1958), 19.
5. Prayer benefits the church and the one seeking God.

a. Our salvation depends on prayer.

(1) "Then everyone who calls on the name of the Lord shall be saved." Acts 2:21
(2) Repentance and asking Jesus are forms of communication, and they are only effective when directed to the Father.

b. Apprehending our inheritance in Christ Jesus.

(1) "It is, therefore, by the benefit of prayer that we reach those riches which are laid up for us with the Heavenly Father." John T. McNeill, ed., Calvin: Institutes of the Christian Religion, Ford Lewis Battles, trans., (Philadelphia: The Westminster Press, 1960), 851.
(2) "Until now you have asked for nothing in my name. Ask and you will receive that your joy may be made full." John 16:24

III. Some prominent views of prayer. (acknowledgement is given to Dr. Miller,  Princeton Theological Seminary)

A. Prayer is like an electrical outlet, 'we plug in and turn on the juice'.
B. If we are in Christ Jesus we are spiritual creatures and prayer is a necessary part of the environment which we need to live and flourish.
C. Prayer has no known physical reality, it is sociologically, a human construct.
D. Some of the classical views.

1. Anything may be prayed for and God answers all prayer, 'ask and you shall receive'.
2. Prayer is not meant to change us but to change God.
3. The only prayer is 'Thy will be done'.

E. My view

1. Prayer is meant to change us into the image of Christ.

a. If we set ourselves aside or lay ourselves as a sacrifice at Christ's feet, we come into deeper communion with God. In this communion we begin to see God more clearly, as we see Christ we are transformed into His image, for we see him like He is.
b. Prayer with God is deeper than the conscious, and that area is changed as God speaks to us.
c. Considering the volume of prayer that is ascending these days, rivers of revival should be flowing in blessing throughout the land. That no such results are in evidence should not discourage us; rather it should stir us to find out why our prayers are not answered. Everything has its proper cause in the Kingdom of God as well as in the natural world. The reason for God's obvious refusal to send revival may lie deep, but surely not to deep to discover. I believe our problem is that we have been trying to substitute praying for obeying: and it simply will not work."A.W. Of God And Men, (Harrisburg: Christian Publications, Inc, 1960), 51
d. If it is true that prayer is related to sacrifice, this may very well be a valid statement. And we can see that obedience is better than sacrifice for the rebuke and dismissal of Saul as king in I Samuel.
e. To pray one must believe in the one to whom we pray. James tells us that 'faith without work is dead.'f. I believe that prayer is a constant tutor while we tarry in this world, but Psalm 119, is a goal to which prayer is aimed. Prayer is effective, but we need to become a people who are living a life of prayer, and when we do we will find that the prayers of the righteous are effective.

2. The only effective prayer is one that is in accordance with the will of God.

a. God activates His will through the prayers of His children.
b. "Far be it for us, then, to deny, in the interest of our freedom, the foreknowledge of God by whose power we are – or are to be – free. It follows, too, that laws are not in vain, nor scoldings and encouragement, nor praise and blame. He foresaw that such things should be. Such things have as much value as He foresaw they would have. So, too, prayers are useful in obtaining these favors which He foresaw He would bestow on those who should pray for them." St. Augustine, The City of God, trans. Garald G. Walsh, S.J.,Demetrius B. Zema, S.J., Grace Mohanan, O.S.U., and Daniel J. Honan, (New York: Image Books, 1958), 110.c. It is through prayer and particularly group prayer that gives us strength and carries us through our days.
d. Prayer shapes our theology and in turn is shaped by our theology.