Would I know you know you if You walked within my sight"
Lord I want to say yes, but would I?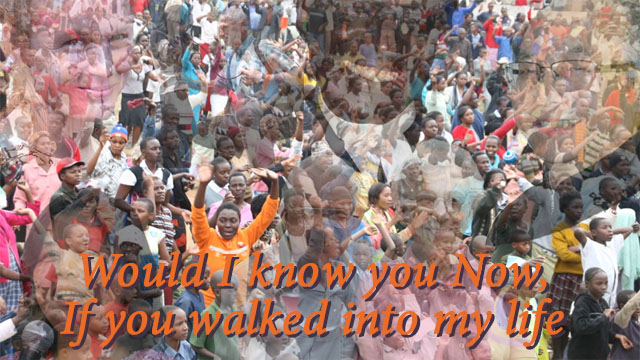 Do I see You living and working in my brothers and sisters?

Lord, I call myself a disciple, but how intimate am I with You?

You whom I owe my very life, in whom I live and have my breath. Do I really live?

Can I be living if I am not intimate on You? Or on my own alone do I sleep?

Have mercy on me oh Lord, grant to me, your servant, fullness of Your Spirit, that I may know You and Your power at work in Your members.

Grant me discernment to see you at work in your servants.

Open my ears to hear, that I may know Your voice, that I may may be sure to hear your final call.

Through day to day practice, let me walk with You, grant me the fullness of hope that comes through Your Spirit.

.

Would I know You now?
I wrote this in the last half of the 1980s. My Inspiration was "Would I Know You Now" sung by Wayne Watson