Names of God in the Bible
To Whom am I to pray? To whom am I to communicate? With whom am I to commune?
Islam prays to الله Allāh,
Judeo Christians to YHWH/God,
Christians to Jesus,
Hinduism to Shiva, Brahma, and Indra,
The list of names used to address God is longer than the total number of languages which have existed.
As a follower of Christ, I find that I can use any of the the names and descriptors found in the Old Testament (TaNaK) and the New Testament referring to the Most High. There are seven names in the TaNaK and seven from the New Testament that are of special note and occur most frequently, with YHWH occurring over 6000 time in the Old Testament. As I consider these names, I am aware that the description and definitions participate with each other at times and separate into particulars. It is as if the description and qualities relating to the Most High are beyond the containment of a handful of human words.
The most common 14 names are: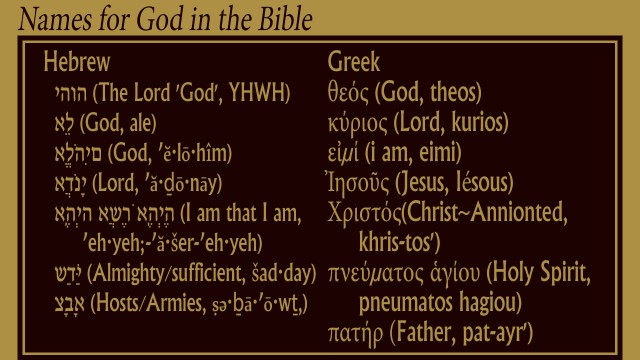 Hebrew
Greek

θεός (God, theos)
κύριος (Lord, kurios)
εἰμί (i am, eimi)
Ἰησοῦς (Jesus, Iésous)
Χριστός(Christ~Annionted", khris-tos')
πνεύματος ἁγίου  (Holy Spirit, pneumatos hagiou)
πατήρ (Father, pat-ayr')
Getting to know the names of God causes us to come face to face with that which is totally other. From a name like YHWH, which many hesitate to even pronounce with unclean lips to Ἀββά ὁ πατήρ, Abba Father, a term latent with all the endearment a child can have for a father. Knowing and considering the names of God opens prayer life to new possibilities.
Greek
Additional Names
Abir "Strong One" of Jacob or Israel;
Lion of the Tribe of Judah
King of Israel
King of Kings
Potentate
Ruler of Creation

Root of David
Rose of Sharon
Second Adam
Seed of Abraham
Seed of David
Seed of the Woman

Son of David
Son of God
Son of Man
Son of Mary
Son of the Most High –
Nazarene

קָדוֹשׁ – kaw-doshe' – holy one
Holy One of Israel
Righteousness
Son of Righteousness

Ẓur ("Rock") – Ẓur Yisrael "Rock of Israel
Cornerstone
Foundation
Head of the Church

Shem ha-Meyuḥad "the Extraordinary Name"
Shem ha-Meforash "the Distinguished Name"

Angel of the Lord –
of Souls
Day Star
Glory of God
'Attiḳ Yamin" the Ancient One of the universe
Light of the World

High Priest
Priest
Purifier
Refiner
Propitiation
Comforter
Mediator

Shalom ("Peace") is God's name.
Shelomoh God of Peace,
Song of Solomon – Song of Songs God's love toward the "Shulamite" (His people Israel)
Prince of Peace

Author and Perfecter of our Faith
Guide
Wonderful Counselor
Advocate
Messiah

Emmanuel
Fountain
Vine
Branch
Gift of God

Refuge
Strong Tower
Shepherd
Gate sheep

Master – Baali – בַּעְלִֽי׃
Husband – Ishi – אִישִׁ֑י
Bridegroom

Alpha and Omega
"we-Ani" – Hillel – "If I am here everything is here"

The Way
The Truth
The Life
Resurrection
The Word
Logos

Savior
Lamb of God
Passover Lamb
Redeemer
 Ransom
Deliverer
Sacrifice
Horn of Salvation

Witness
Servant
Carpenter
Rabbi
Teacher
Physician
Prophet

Bread of Life
First Fruits
Consolation of Israel