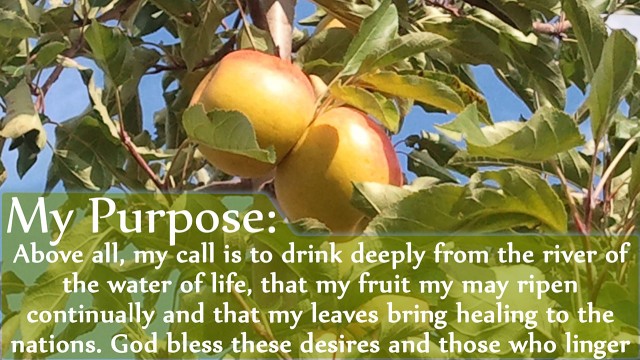 Jaded early, during my college years, some 28 years ago, I saw all as vanity. There was no reason to continue at Ohio State, so I didn't. Feeling called to know God I began my journey in Christ. At the start, all of life was Jesus. I worked but it was in computer development, so I worked 40 hours in few of chunks per week. This left me with hours to walk in the Spirit. I was literally able to walk in prayer at a local park, Highbanks for several hours at a time. I really could not get enough. I went to several studies a week. I ministered in several prayer groups a week. The fellowship of the intercessory prayer permanently increased my confidence in God. One of the things I clearly remember God impressing on me, was the idea that I would not be able to settle in any one ministry role for long, my life was to be an eclectic journey.
The impression I perceived from God was that I was to have several roles in the Kingdom of God over my pilgrimage on earth, I was always to be a bard. Ever learning, bored when I become proficient in some vocabulary, theories, laws, terms, or action of a job, study, project, etc. When something in me deems my current study to be satiated I grow terribly bored and drive drops to nothing. If this happens when I am in a trough on the depression side of bipolar, it can get bad.
There is one exception, contemplation in God. There in no end to the satisfaction. Every moment brings something new, eureka, but more rich and more robust. It is being in God. It can be overwhelming. Contemplation is not a self directed activity which God allows and enters into as partner as is meditation, it is God breathed, God initiated, God sustained.
Ours is but to yield. William James referred to genius as a branch on a neurological tree. Genius in contemplation, is, like all branches of genius, the gift of God. God is the source of the gift, but God is also the substance of this gift, and this will not be taken. There is nothing of my accomplishment in this contemplation, it is the calling and blessing of God.
Those communing with God experience prayers, during the course of life, where the body and mind fill like an old wine skin ready to burst with what the Spirit pours. This is like attempting to look into the "the bright morning star".  We will not be able to stand in the full light until,
17 The Spirit and the bride say, "Come." And let the one who hears say, "Come." And let the one who is thirsty come; let the one who wishes take the water of life without cost.
I do not need to be self critical of myself for not spending more time in Jesus, it is the Lords. God impresses on me that often this communion is only for me now is for me, for if I do not abide in Christ I am not empowered for ministry. The filling of Love drives us outward, we can not stay long in contemplation not would God let us stay there, as many fear. Often this communion is how God empowerment to act in the ministry God has prepared for us. Time in the tabernacle provides that which is needed for our ministries to those seeing the shadows on the wall.
22 To the weak I became weak, that I might win the weak; I have become all things to all men, so that I may by all means save some.
Back to my purpose. God impressed on me so many years ago that writing and teaching. I would be unfaithful to say that this was not the time. It is in these area that I pour out most of my energy volitionally and involuntarily. Now is my time to return to "everything for Jesus." Whether writing here satisfies my need to write or it is a spring board to something unseen, I am content.
I am confident that my writings, journal entries, and and musings will satisfy my desire to bring good news to the afflicted, to bind the brokenhearted, to proclaim liberty and freedom, to proclaim the favorable year of the LORD, through writing.
 12 … I press on so that I may lay hold of that for which also I was laid hold of by Christ Jesus.13 Brethren, I do not regard myself as having laid hold of it yet; but one thing I do: forgetting what lies behind and reaching forward to what lies ahead, 14 I press on toward the goal for the prize of the upward call of God in Christ Jesus.
Above all, my call is to drink deeply from the river of the water of life, that my fruit may ripen continually and that my leaves bring healing to the nations. God bless these desires and those who linger here.