Mercy Triumphs Over Judgment – κατακαυχᾶται ἔλεος κρίσεως
I have always considered justice and mercy commands.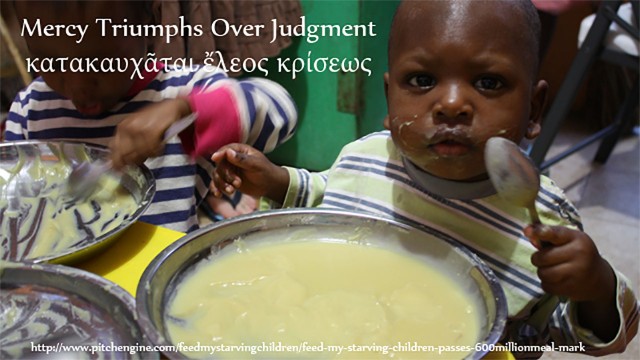 As lifestyle components, I can not just pick and choose between justice and mercy at will. Both flow out of the heart on their own accord.
I have always considered justice and mercy as equally necessitated, like ends of an axis, like the Golden Mean that Aristotle's ethics balance. At this point I have accepted, or shall I say, I am keenly aware of a shift in my pursuit of justice.
My focus is on the mercy of God. There is no law against mercy.
In the past I would not have debated the importance of mercy or judgement. I would have argued their mutual necessity, but not one over the other. I  have questioned those who display primarily mercy. I have questioned in my mind,  those whose focus was judgement.
At this point, I think true justice is actually judgement based on mercy and its application, especially to the sick soul.
He has told you, O man, what is good; And what does the LORD require of you But to do justice, to love kindness, And to walk humbly with your God?
Micah 6:8
Zechariah 7:9-10
"Thus has the LORD of hosts said, 'Dispense true justice and practice kindness and compassion each to his brother; and do not oppress the widow or the orphan, the stranger or the poor; and do not devise evil in your hearts against one another.'
Hate evil, love good, and establish justice in the gate! Perhaps the LORD God of hosts may be gracious to the remnant of Joseph.
Amos 5:15
Proverbs 31:9
Open your mouth, judge righteously, And defend the rights of the afflicted and needy.
Grace, mercy and peace will be with us, from God the Father and from Jesus Christ, the Son of the Father, in truth and love.
2 John 1:3
Matthew 5:7
"Blessed are the merciful, for they shall receive mercy.
 For judgment will be merciless to one who has shown no mercy; mercy triumphs over judgment.  James 2:13