Christian Mysticism – Life in Christ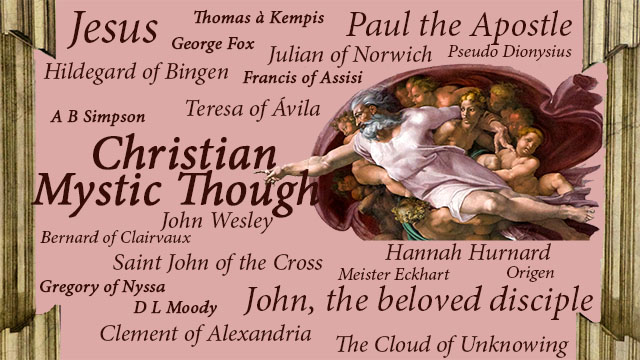 Christian mystic thought has long been a part of my life in Christ. Before I knew the term mystic Christianity I saw that God desires union with His people. I almost refrain from using the term "mystic" as many think Christians get skirmish around the term, thinking it might have to do with the occult or some other faulty notion. But those who pursue the mystery, which is to participate with Christ in union. This union is the mystery of the ages which "has now been manifested to His saints".  A christian expecting a living relationship with God is the heart of mysticism. The heart of piety in early protestants groups was based on this concept. this mystic value. They have, at their heart, the firm belief that each believer can and must have a personal relationship  in Jesus Christ.
… that I might fully carry out the preaching of the word of God, 26 that is, the mystery which has been hidden from the past ages and generations, but has now been manifested to His saints, 27 to whom God willed to make known what is the riches of the glory of this mystery among the Gentiles, which is Christ in you, the hope of glory.  Colossians 1:25b-27
Above anything else, I considered God to be One who loves us,  to the point of death, to the point of hanging on a cross. This mystery is that He is the One who reconciles us to Himself. In my soul it is clear, the God of all creation wants to have a relationship with us.  This relationship is the journey, this journey is the great adventure.
We the Church have the full example of living well, We have the witness of Jesus Christ the Nazarene, Ἰησοῦ Χριστοῦ τοῦ Ναζωραίο. Jesus cultivated an intimate relationship with those who followed Him. The New Testament refers to the Church, τῇ ἐκκλησία, as those called out. Those called out are called out to live in relationship to Jesus:

Flock of God, People of God, Temple of God, Household of God, Children of God, Body of Christ, Bride of Christ
Foreshadowing expressions of this relationship are seen throughout Old Testament. "For by it (faith) the men of old gained approval." Πίστει, 'by faith' is attached to every person on the 'by faith list' in Hebrews. Every person on this list evidenced a mystic life, they walked with God: Abel, Enoch, Noah, Abraham, Isaac, Jacob, Sarah, the prophets, Moses, Rahab, Gideon, Barak, Samson, Jephthah, David, Samuel
And without faith it is impossible to please Him, for he who comes to God must believe that He is and that He is a rewarder of those who seek Him. Hebrews 11:6
Living in and by the power of Christ's faith conform us into  εἰκὼν τοῦ Θεοῦ, the image of God.  Jesus is Himself the reward. This is the part often overlooked. It is when we see God as the reward that the fount bubbles up and overflows into our lives. This becomes knowledge based on experience, γινώσκω.
Jesus spoke these things; and lifting up His eyes to heaven, He said, "Father, the hour has come; glorify Your Son, that the Son may glorify You, even as You gave Him authority over all flesh, that to all whom You have given Him, He may give eternal life. This is eternal life, that they may know (γινώσκωσιν) You, the only true God, and Jesus Christ whom You have sent. John 17:1-3
This is an internal esoteric relationship. This is a first person relationship. Attempting to live out a relational life within Jesus has engendered misunderstanding in the visible church in every age. The follower of Christ seeking sanctification, transformation into the image of Christ, will struggle against "the lust of the flesh, the lust of the eyes, and the pride of life," but often members of the church living in third person faith as well.
"but sanctify Christ as Lord in your hearts, always being ready to make a defense to everyone who asks you to give an account for the hope that is in you, yet with gentleness and reverence" – I Peter 3:15
is often applied to salvation. It applies to sanctification more firmly than it does salvation. This admonition begins with "sanctify Christ as Lord in your hearts".
I am drawn to many who have been labeled the mystics of the Church.
I love to hear how they perceived their life with Christ.
I appreciate that these writers speak candidly of their experience.
I appreciate  the scriptural depth of knowledge at their command.
I appreciate that they are knowledgeable, not simply to their contemporary theologic currents but but to past trends and currents. They knew how the Church came to their current positions.
Finally, and most compelling for me, it is clear that the Christian mystics have lived lives much closer to witness of Jesus and that church seen in the New Testament than Christians at large.
How can we live and walk with God without trusting (possibly expecting) that God wants to walk with us?
The simple desire for living in the presence of God indicates that the journey has began. Abiding in Christ often begins with appreciating what God has already done. This appreciation is worship.
whenever a person turns to the Lord, the veil is taken away.  Now the Lord is the Spirit, and where the Spirit of the Lord is, there is liberty. But we all, with unveiled face, beholding as in a mirror the glory of the Lord, are being transformed into the same image from glory to glory, just as from the Lord, the Spirit. II Corinthians 3:16-17
Mystic understanding began to bloom my life as  I yielded my life, my all to God. It is in yielding to God that we each begin to live, as it were,  in the emerging kingdom of heaven, the reign of God .
Christian mystic thoughts – mythoughts
Note – to those who consider themselves mystic under this terminology: Mystic experience has an authority for the mystic who hears from God. Often when God corrects us or reveals Himself to us in a firm way we want to pass that personal understanding on to others. I find that unless the voice of God clearly says, 'this message is for another' (see the prophet Nathan and King David) then what God impresses on our hearts  is for us, not toward the Church at large.