Build Up and Accept Rather Than Tear Down and Separate
I just woke up from a dream wanting to run, run physically, run from brothers and sisters in Christ, run even from my wife. Self pity kept this desire for isolation spiraling downward, I continue to want to run. It has been 30 minutes and I no longer have an urgency to run but my chest is still tight and painful.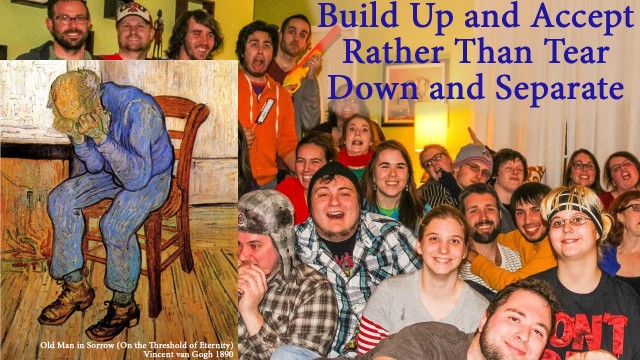 What woke me in this, what frenzy. I was dreaming that others working with me were talking about me, primarily behind my back. In this dream I was aware of God using me strongly, yet I questioned my effectiveness in this environment.
I feel I am mature in Christ, strong in God, but I wrestled longer than I consider acceptable before gaining composure of thought. The physical effects will take a while to move back to equilibrium.
How often do we talk about people behind their backs. Maybe we just witness people talk about others behind their backs. One way or another, the effect on the person being talked about can become overwhelming, tearing others down. Like I said, I consider myself secure in Christ. How do those who question their position in Christ handle this, what marginalization. Their running and isolation will continue through life. How often do we place others in this unhealthy state.
I do not want to get into the minutia of this dream. I really do not want to continue to think about the effects gossiping and backbiting. I simply had a dream, it was just a dream and unreal. What I want to do is to admonish all who read this, build up and accept rather than tear down and separate. I want to encourage those who trust Christ but feel isolated and hurt, Christ accepts you and will build you until the end.
1 Now we who are strong ought to bear the weaknesses of those without strength and not just please ourselves. 2 Each of us is to please his neighbor for his good, to his edification. 3 For even Christ did not please Himself; but as it is written, "THE REPROACHES OF THOSE WHO REPROACHED YOU FELL ON ME." 4 For whatever was written in earlier times was written for our instruction, so that through perseverance and the encouragement of the Scriptures we might have hope. 5 Now may the God who gives perseverance and encouragement grant you to be of the same mind with one another according to Christ Jesus, 6 so that with one accord you may with one voice glorify the God and Father of our Lord Jesus Christ.

7 Therefore, accept one another, just as Christ also accepted us to the glory of God.