דָּרַשׁ, daw-rash'; To Trust, To Seek – Submissive Aspect of Prayer
דָּרַשׁ, daw-rash';

a prim. root; prop. to trust or frequent; usually to follow (for pursuit or search); by impl. to seek or ask; spec. to worship -ask, *at all, care for, *diligently, inquire, make inquisition, [necro -] mancer, question, require, search, seek [for, out], *surely.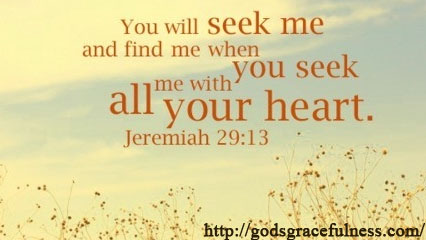 JEREMIAH
10:21 For the shepherds are stupid, and do not inquire of the LORD;therefore they have not prospered, and all their flock is scattered.
21:2 "Please inquire of the LORD on our behalf, for King Nebuchadrezzar of Babylon is making war against us; perhaps the LORD will perform a wonderful deed for us, as he has often done, and will make him withdraw from us."
29:13 When you search for me, you will find me; if you seek me with all your heart,
HOSEA
10:12 Sow for yourselves righteousness; reap steadfast love; breakup your fallow ground; for it is time to seek the LORD, that he may come and rain righteousness upon you.
AMOS
5:4 For thus says the LORD to the house of Israel: Seek me and live;
5:5 but do not seek Bethel, and do not enter into Gilgal or crossover to Beersheba; for Gilgal shall surely go into exile, and Bethel shall come to nothing.
5:6 Seek the LORD and live, or he will break out against the house of Joseph like fire, and it will devour Bethel, with no one to quench it.
MICAH
6:8 He has told you, O mortal, what is good; and what does the LORD require of you but to do justice, and to love kindness, and to walk humbly with your God?
ZEPHANIAH
1:6 those who have turned back from following the LORD, who have not sought the LORD or inquired of him.