אָמַר, aw-mar'; To Say – Communicative Prayer
אָמַר, aw-mar'; a prim. root; to say (used with great latitude); answer, appoint, avouch, bid, boast self, call, certify, challenge, charge, command, commune, consider, declare,  demand, *desire, determine, *express, *indeed, *intend, name, plainly, promise, publish, report, require, say, speak, *still, *suppose, talk, tell, term.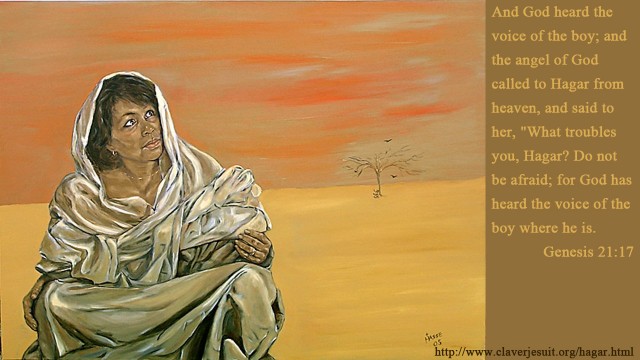 GENESIS
21:16 Then she went and sat down opposite him a good way off, about the distance of a bow shot; for she said, "Do not let me look on the death of the child." And as she sat opposite him, she lifted up her voice and wept.
21:17 And God heard the voice of the boy; and the angel of God called to Hagar from heaven, and said to her, "What troubles you, Hagar?  Do not be afraid; for God has heard the voice of the boy where he is.
24:12 And he said, "O LORD, God of my master Abraham, please grant me success today and show steadfast love to my master Abraham.
24:42  "I came today to the spring, and said, `O LORD, the God of my master Abraham, if now you will only make successful the way I am going!
32:9  And Jacob said, "O God of my father Abraham and God of my father Isaac, O LORD who said to me, `Return to your country and to your kindred, and I will do you good,'
32:12 Yet you have said, `I will surely do you good, and make your offspring as the sand of the sea, which cannot be counted because of their number.' "
EXODUS
17:2 The people quarreled with Moses, and said, "Give us water to drink." Moses said to them, "Why do you quarrel with me?  Why do you test the LORD?"
17:3 But the people thirsted there for water; and the people complained against Moses and said, "Why did you bring us out of Egypt, to kill us and our children and livestock with thirst?"
17:4 So Moses cried out to the LORD, "What shall I do with this people?  They are almost ready to stone me."
18:6 He sent word to Moses, "I, your father‑in‑law Jethro, am coming to you, with your wife and her two sons."
18:10  Jethro said, "Blessed be the LORD, who has delivered you from the Egyptians and from Pharaoh.
19:3 Then Moses went up to God; the LORD called to him from the mountain, saying, "Thus you shall say to the house of Jacob, and tell the Israelites:
32:11  But Moses implored the LORD his God, and said, "O LORD, why does your wrath burn hot against your people, whom you brought out of the land of Egypt with great power and with a mighty hand?
32:12 Why should the Egyptians say, `It was with evil intent that he brought them out to kill them in the mountains, and to consume them from the face of the earth'?  Turn from your fierce wrath; change your mind and do not bring disaster on your people.
32:31 So Moses returned to the LORD and said, "Alas, this people has sinned a great sin; they have made for themselves gods of gold.
33:12  Moses said to the LORD, "See, you have said to me, `Bring up this people'; but you have not let me know whom you will send with me.  Yet you have said, `I know you by name, and you have also found favor in my sight.'
33:18 Moses said, "Show me your glory, I pray."
NUMBERS
11:11 So Moses said to the LORD, "Why have you treated your servant so badly?  Why have I not found favor in your sight, that you lay the burden of all this people on me?
12:13 And Moses cried to the LORD, "O God, please heal her."
17:12  The Israelites said to Moses, "We are perishing; we are lost, all of us are lost!
32:40 For I lift up my hand to heaven, and swear: As I live forever,
7:7 Joshua said, "Ah, Lord GOD!  Why have you brought this people across the Jordan at all, to hand us over to the Amorites so as to destroy us? Would that we had been content to settle beyond the Jordan!
7:8 O Lord, what can I say, now that Israel has turned their backs to their enemies!
10:10  So the Israelites cried to the LORD, saying, "We have sinned against you, because we have abandoned our God and have worshiped the Baals."
10:15 And the Israelites said to the LORD, "We have sinned; do to us whatever seems good to you; but deliver us this day!"
13:8  Then Manoah entreated the LORD, and said, "O, LORD, I pray,let the man of God whom you sent come to us again and teach us what we are to do concerning the boy who will be born."
15:18  By then he was very thirsty, and he called on the LORD,saying, "You have granted this great victory by the hand of your servant.  Am I now to die of thirst, and fall into the hands of the uncircumcised?"
JUDGES
16:28  Then Samson called to the LORD and said, "Lord GOD,remember me and strengthen me only this once, O God, so that with this one act of revenge I may pay back the Philistines for my two eyes."
16:30 Then Samson said, "Let me die with the Philistines." He strained with all his might; and the house fell on the lords
21:3 They said, "O LORD, the God of Israel, why has it come to pass that today there should be one tribe lacking in Israel?"
I SAMUEL
2:1  Hannah prayed and said, "My heart exults in the LORD; my strength is exalted in my God.  My mouth derides my enemies, because I rejoice in my victory.
10:22 So they inquired again of the LORD, "Did the man come here?"and the LORD said, "See, he has hidden himself among the baggage."
12:10 Then they cried to the LORD, and said, `We have sinned,because we have forsaken the LORD, and have served the Baals and the Astartes;but now rescue us out of the hand of our enemies, and we will serve you.'
14:41 Then Saul said, "O LORD God of Israel, why have you not answered your servant today?  If this guilt is in me or in my son Jonathan, O LORD God of Israel, give Urim; but if this guilt is in your people Israel, give Thummim." And Jonathan and Saul were indicated by the lot, but the people were cleared.
23:10 David said, "O LORD, the God of Israel, your servant has heard that Saul seeks to come to Keilah, to destroy the city on my account.
25:39  When David heard that Nabal was dead, he said, "Blessed be the LORD who has judged the case of Nabal's insult to me, and has kept back his servant from evil; the LORD has returned the evil doing of Nabal upon his own head." Then David sent and wooed Abigail, to make her his wife.
II SAMUEL
7:18  Then King David went in and sat before the LORD, and said,"Who am I, O Lord GOD, and what is my house, that you have brought me thus far?
7:26 Thus your name will be magnified forever in the saying, `The LORD of hosts is God over Israel'; and the house of your servant David will be established before you.
7:27 For you, O LORD of hosts, the God of Israel, have made this revelation to your servant, saying, `I will build you a house'; therefore your servant has found courage to pray this prayer to you.
18:28  Then Ahimaaz cried out to the king, "All is well!" He prostrated himself before the king with his face to the ground, and said,"Blessed be the LORD your God, who has delivered up the men who raised their hand against my lord the king."
22:2 He said: The LORD is my rock, my fortress, and my deliverer,
23:3 The God of Israel has spoken, the Rock of Israel has said tome: One who rules over people justly, ruling in the fear of God,
24:17 When David saw the angel who was destroying the people, he said to the LORD, "I alone have sinned, and I alone have done wickedly; but these sheep, what have they done?  Let your hand, I pray, be against me and against my father's house."
I KINGS
1:48 and went on to pray thus, `Blessed be the LORD, the God of Israel, who today has granted one of my offspring to sit on my throne and permitted me to witness it.'"
8:15 He said, "Blessed be the LORD, the God of Israel, who with his hand has fulfilled what he promised with his mouth to my father David, saying,
8:23 He said, "O LORD, God of Israel, there is no God like you in heaven above or on earth beneath, keeping covenant and steadfast love for your servants who walk before you with all their heart,
8:25 Therefore, O LORD, God of Israel, keep for your servant my father David that which you promised him, saying, `There shall never fail you a successor before me to sit on the throne of Israel, if only your children look to their way, to walk before me as you have walked before me.'
17:20 He cried out to the LORD, "O LORD my God, have you brought calamity even upon the widow with whom I am staying, by killing her son?"
17:21 Then he stretched himself upon the child three times, and cried out to the LORD, "O LORD my God, let this child's life come into him again."
19:4  But he himself went a day's journey into the wilderness, and came and sat down under a solitary broom tree.  He asked that he might die: "It is enough; now, O LORD, take away my life, for I am no better than my ancestors."
II KINGS
6:17 Then Elisha prayed: "O LORD, please open his eyes that he may see." So the LORD opened the eyes of the servant, and he saw; the mountain was full of horses and chariots of fire all around Elisha.
6:18 When the Arameans came down against him, Elisha prayed to the LORD, and said, "Strike this people, please, with blindness." So he struck them with blindness as Elisha had asked.
6:20  As soon as they entered Samaria, Elisha said, "O LORD, open the eyes of these men so that they may see." The LORD opened their eyes, and they saw that they were inside Samaria.
19:15 And Hezekiah prayed before the LORD, and said: "O LORD the God of Israel, who are enthroned above the cherubim, you are God, you alone, of all the kingdoms of the earth; you have made heaven and earth.
20:2 Then Hezekiah turned his face to the wall and prayed to the LORD:
I CHRONICALS
4:10 Jabez called on the God of Israel, saying, "Oh that you would bless me and enlarge my border, and that your hand might be with me, and that you would keep me from hurt and harm!" And God granted what he asked.
16:31 Let the heavens be glad, and let the earth rejoice, and let them say among the nations, "The LORD is king!"
16:35 Say also: "Save us, O God of our salvation, and gather and rescue us from among the nations, that we may give thanks to your holy name,and glory in your praise.
16:36 Blessed be the LORD, the God of Israel, from everlasting to everlasting." Then all the people said "Amen!" and praised the LORD.
21:8 David said to God, "I have sinned greatly in that I have done this thing.  But now, I pray you, take away the guilt of your servant; for I have done very foolishly."
21:17 And David said to God, "Was it not I who gave the command to count the people?  It is I who have sinned and done very wickedly.  But these sheep, what have they done?  Let your hand, I pray, O LORD my God, be against me and against my father's house; but do not let your people be plagued!"╛hands."
II CHRONICLES
1:8 Solomon said to God, "You have shown great and steadfast love to my father David, and have made me succeed him as king.
2:12 Huram also said, "Blessed be the LORD God of Israel, who made heaven and earth, who has given King David a wise son, endowed with discretion and understanding, who will build a temple for the LORD, and a royal palace for himself.
6:1  Then Solomon said, "The LORD has said that he would reside in thick darkness.
6:4 And he said, "Blessed be the LORD, the God of Israel, who with his hand has fulfilled what he promised with his
6:14 He said, "O LORD, God of Israel, there is no God like you, in heaven or on earth, keeping covenant in steadfast love with your servants who walk before you with all their heart
6:16 Therefore, O LORD, God of Israel, keep for your servant, my father David, that which you promised him, saying, `There shall never fail you a successor before me to sit on the throne of Israel, if only your children keep to their way, to walk in my law as you have walked before me.'
20:6 and said, "O LORD, God of our ancestors, are you not God in heaven?  Do you not rule over all the kingdoms of the nations?  In your hand are power and might, so that no one is able to withstand you.
20:21 When he had taken counsel with the people, he appointed those who were to sing to the LORD and praise him in holy splendor, as they went before the army, saying, "Give thanks to the LORD, for his steadfast love endures forever."
…